NEW HIGH-TECH BROCHURE

A selection of high-tech textiles for interior blinds, ideal for glazed façades. Thanks to their sun protection performance, these fabrics give buildings the benefit of advantages previously reserved for exterior applications in terms of thermal and visual comfort.
Metallic or double-sided, they integrate perfectly with both the most contemporary interiors and traditional buildings
Available in large widths, they adapt equally well to large glazed surfaces and small spaces
They meet health and safety requirements for buildings open to the public

CLICK HERE AND REQUEST SIMPLES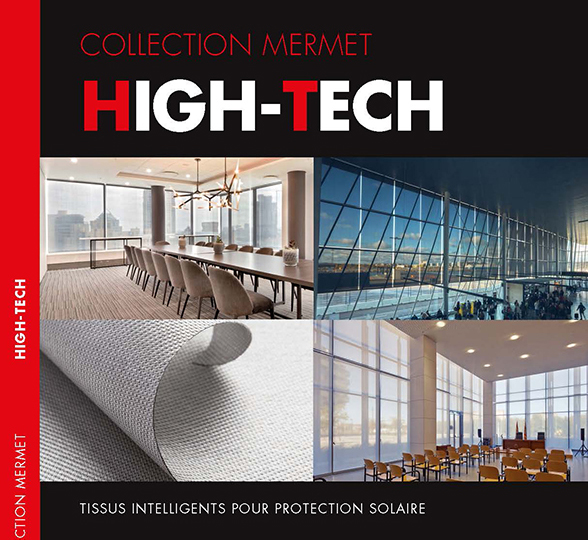 DID YOU KNOW?
In winter, the sun protection blinds guarantee thermal insulation, visual comfort and energy saving.
Thanks to their transparency, the fabrics let natural light in while controlling glare. The blinds also maintain the internal air temperature by preventive heat losses (day and night) and the "cold" effect of glazing. They allow energy savings by limiting the use of heating and lighting. Low emissivity Mermet fabrics act as a «heat insulator» to provide this thermal confort.
SATINÉ 5500 LOW E
Thanks to its double-sided metallization, this technical fabric obtains exceptional properties:
Excellent heat protection: the fabric alone reflects 87% of solar energy
Emissivity level of 15% to minimize transmission of heat and cold from the glazing
Optimal visual comfort: maintains view to the outside, optimisation of incoming natural light and glare control.
---
SCREEN NATURE ULTIMETAL®
Unique glass yarn fabric, halogen-free, PVC-free, polyester-free and transparent, it guarantees minimal environmental impact and positions itself at the leading edge in terms of environmental, fire and smoke classifications. With the metallic side, it allows:
An optimal heat protection: the metalized side, facing the window, rejects up to 88% of solar energy in all colours
A very low emissivity of 10%. The fabric acts as a heat insulator, delivering interior comfort in summer and winter

---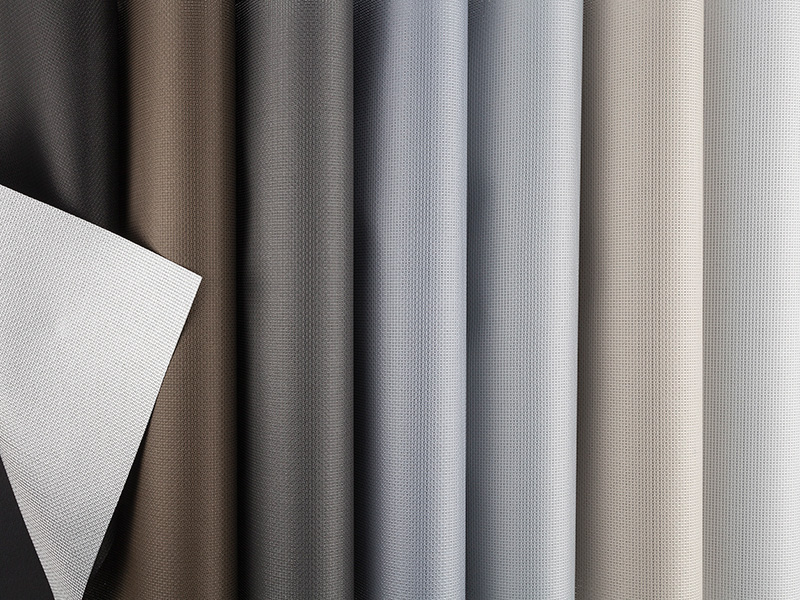 SCREEN THERMIC S2 1% – 3% – 5%
With Double Sided Fabric, this fabric guarantees:
Good outward visibility and Perfect Glare Control with the dark-coloured inside facing fabric: up to 97% of light rays filtered;
Maximum Heat Protection with the white-coloured outside facing fabric that Reflects Solar Radiation: up to 87% of solar energy eliminated.
---
M-SCREEN ULTIMETAL®
With one screen side and one metallic side, this fabric guarantees, irrespective of the colour selected, a unique level of performance with:
An excellent solar reflection of 83%
A very low emissivity of 5%: the fabric acts as a heat insulator
A low visible transmission (Tv from 3% to 4%)
As well as offering total thermal comfort, they eliminate glare and distracting reflections.